Description
We are EXCITED to OFFER you a PRODUCT that will HELP you PATCH, STICK, FIX any item EASILY, INSTANTLY and EFFORTLESSLY. Introducing the SUPER ADHESIVE QUICK DRY GLUE.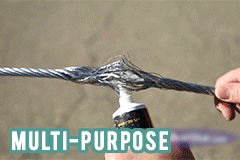 Super Adhesive Quick Dry Glue
is a MULIT-PIURPOSE ADHESIVE that is SPECIALLY FORMULATED to be the ULTIMATE SOLUTION for
BONDING OBJECTS
. It is
HIGH-STRENGTH
and
QUICK DRYING
glue that WORKS on a VARIETY of MATERIALS CREATING a LONG-LASTING REPAIR in an INSTANT.
It has a

DISPENSING NEEDLE

that can BOND more SUBTLE MATERIALS.?
Super Adhesive Quick Dry Glue
can STRONGLY BOND and HOLD materials such as
Metal. Plastic, Ceramic, Rubber, PVC, Leather, Shoes, Wood, and Wire
. It can DRY as FAST as
10-45 SECONDS
and it
DOES NOT NEED CLAMPING
. It has an INCREASED IMPACT
RESISTANCE to handle BUMPS and DROPS.
FEATURES:
Glue for Repairing

?

–

?

Penetrates the finest micro-fractures, pores, and cracks
Strong & Instant Adhesive

?

– Adhesive works like a magnet,?locks into place and holds on tight
Hassle-free, Easy to Use

?

– No running or dripping of glue during application
100% Waterproof, UV and weather-resistant
Dries clear with

?

no strong odor
Can be applied to flat, vertical, uneven and overhead surfaces
Paintable
Solvent-free
Works on Various Surfaces

?

including rubber, metal, ceramics, plastic, glass, wood and more
Multi-purpose

?

– Great for gluing D.I.Y. wood finish, repairing cracked items, sticking wall decorations and more
SPECIFICATIONS:
Package Includes:

?

1 x Super Adhesive Quick Dry Glue